SPAN400 Aluminium Scaffolding
Aluminium Scaffolding with Rib-Grip jointing system. With power 3 times stronger than welded joint, Span400 Aluminium Scaffolding is in a class of its own.
Apart from light material and easy application system, Span400 Aluminium Scaffolding is highly effective and efficient for any work, as well as profitable due to its durable material (anti-rust and corrosion).
---
SPECIFICATION
| | |
| --- | --- |
| Maximum Platform Height | 32m |
| Maximum Reach Height | 34m |
| Maximum Tower Height | 33m |
| Tower Length | 1.5m / 2.0m / 2.5m / 3.0m |
| Tower Width | 0.74m (SW) / 1.37m (DW) |
| Number of Platforms per Floor | 1/2 |
| Maximum Weight per Tower | 720kg |
| Maximum Weight per Weight | 360kg |
| Material | Aluminium Alloy |
| Connection Construction | RIB-GRIP Joint |
| Diameter of Pipe | 50.8mm |
| Distance between Rung | 400mm |
| Maximum Height Increase | 400mm |
| Certification | TUV Certified, EN1004, BS1139-6, ANSI & OSHA |
---
FEATURE
Rib-Grip Joint

A key feature in the Aluminium Scaffolding that we offer. Rib-Grip Joint is proven to be 3 times stronger than welded joint. Already patented by Instant UpRight, it brings out the best quality and long endurance of any Aluminium Scaffolding.

Caster Wheel and Adjustable Leg

A highly practical, easy to use height control. It is also equipped with caster wheels suitable for any type of floors, from rough surface to marble floors.

Rhino Hook

Rhino-horn-like hooks on horizontal and diagonal bracings, giving more capacity to every bracing. There is also a locking system that can be easily installed and dismantled by hand.

Trapdoor Platform

A light but strong platform, ensuring safety to its users. The trapdoor system allows you to access the tower safely and comfortably.

Span Frame

Multifunction frame Aluminium Scaffolding applicable to various designs. Made of high quality material, it is a lightweight and solid frame.


Flute Frame

Ridge marks along the frame Aluminium Scaffolding allow convenience grip and utilization in every aspect of work.
---
3D DISPLAY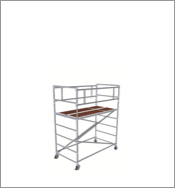 2 Meter Double Width (DW)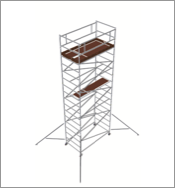 6 Meter Double Width (DW)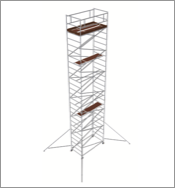 10 Meter Double Width (DW)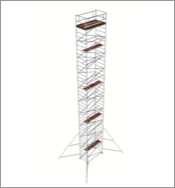 16 Meter Double Width (DW)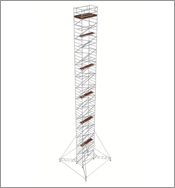 22 Meter Double Width (DW)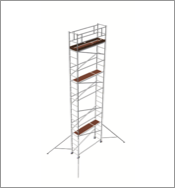 8 Meter Single Width (SW)